Krill Oil: The Natural Omega-3 Superfood
‍ Supports Heart Health
‍ Supports Skin and Joint Health
‍ Supports Brain Health
Order Now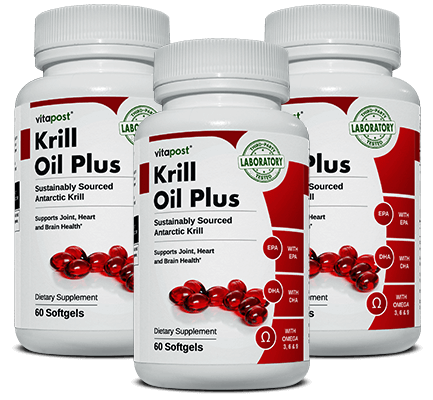 What is Krill Oil Plus?
Krill Oil is a popular health supplement well-known for its benefits in helping support a healthy heart, skin, cognitive function and overall health.
VitaPost Krill Oil Plus is made from shrimp-like ocean creatures found in the cold waters of Antarctica, where ships operate under the Convention for Conservation of Antarctic Marine Resources. The oil is extracted from krill on-board, ensuring quality and reliability. Our source carries Friend of the Sea certification, so you can be sure the krill we use are well managed and sustainable.
Whether you are looking to support your heart, joint, skin or brain health or just want to boost your omega-3 intake, the VitaPost Krill Oil Plus formula is a safe way to support overall health - all in a convenient softgel.
With ingredients seen in: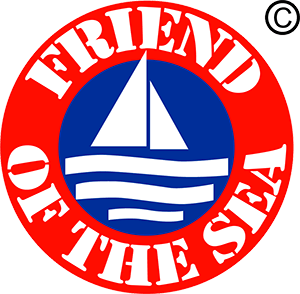 Benefits of VitaPost Krill Oil Plus
Krill oil is packed with beneficial omega-3 fatty acids as EPA and DHA as well as a significant amount of phospholipids, and contains the powerful antioxidant astaxanthin. These may have several positive effects for your body and overall health.
‍
Supports a Healthy Heart and Joints
Krill oil supplements have gained in popularity due to their effects in helping to support healthy joints and physical activity. Omega-3 fatty acids play an important role in normal cardiovascular health. The phospholipids in krill oil can support healthy cholesterol levels within the normal range. Interestingly, krill oil has also been shown to effectively ease the normal discomforts of women's cycles.1-4
‍
Supports Skin and General Health
VitaPost Krill Oil Plus is rich in the ketocarotenoid astaxanthin, a powerful natural antioxidant that supports the health of human cells. It has unusually high antioxidant properties due to its chemical structure. Astaxanthin has attracted considerable interest in the scientific community in recent times for a huge range of potential positive effects as a supplement; especially in the areas of skin, aging and oxidative stress.5-8
‍
Supports Cognitive Function
The omega-3 fatty acids EPA and DHA are known to support normal brain function and development in all stages of life. For pregnant women, a diet with a higher intake of omega-3s has been associated with higher intelligence scores for their children in early childhood. At the other end of the line, omega-3s have been shown to support brain function in aging people.9-11
The Krill Oil Difference
Krill Oil Plus has properties beyond other supplemental oils:
Beneficial Phospholipids
The plentiful phospholipids in krill oil support healthy joints and are used in every cell membrane in the body. Krill oil is different to other omega-3 supplements because 30-60% of the omega-3s are attached to these beneficial phospholipids. In fish oil, for example, the omega-3s are primarily attached to plain-old triglycerides (oils).3
A Better Source of Omega-3
Krill is considered to be free from heavy metals, very stable, and more efficiently absorbed than fish oil. Research suggests that because of the phospholipids (see above), the omega-3 in krill oil can be more bioavailable (absorbable) than that of fish oil. The sustainability of the krill harvesting operation under CCAMR, certified by Friend of the Sea, also makes VitaPost Krill Oil Plus a better option for supplementing your health.3
Astaxanthin
Krill oil contains the powerful antioxidant astaxanthin, which supports a healthy immune system, skin and general health. Astaxanthin gives VitaPost Krill Oil Plus its deep red color, and it has recently attracted considerable scientific interest in the areas of skin, aging and oxidative stress.5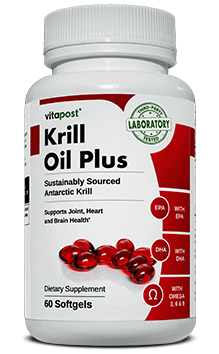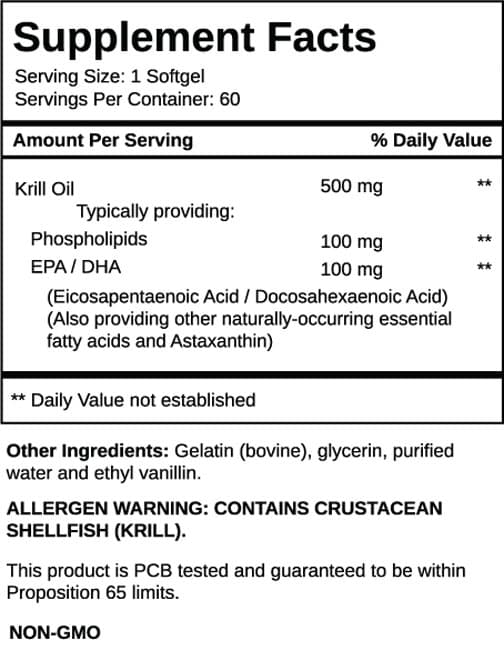 Professional Opinions
The benefits of krill oil have been presented in numerous mainstream media studies by clinics and organisations.

"Some evidence suggests that the fats found in krill oil may be easier for the body to use than those from fish oil, since most omega-3 fats in fish oil are stored in the form of triglycerides"
Published by Healthline, December 2017

"Science shows omega-3s can help prevent, and even reverse, heart disease and other serious conditions. We are also learning how omega-3s can be particularly helpful throughout our lives, from pregnancy to our golden years."
Published by Fox News Network, October 2015

"After 4 weeks of taking only one of the supplements, krill oil led to higher levels of EPA and DHA in a person's blood compared with fish oil."
Published by Medical News Today, January 2019
Krill Oil Plus TESTIMONIALS
Don't just take our word for it. Thousands of customers have experienced the results for themselves, and this is what a few of them had to say:
Already a customer? Write your review now ‍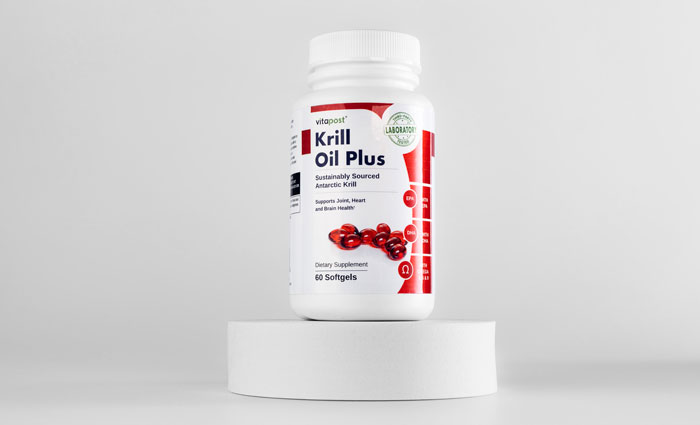 ‍
High quality. -
Anastasia
Great value for money.
‍ Yes, I would recommend this product
‍
Best quality I've seen -
Krill girl
These softgels are a deep red and look like the best krill oil I've bought so far, happy to recommend
‍ Yes, I would recommend this product
‍
Great value for the omega 3s that you get. Didn't have a fish taste either
‍ Yes, I would recommend this product
Click here to read all reviews.
Order Krill Oil Plus
1 Bottle
$29.50
Out Of Stock
Most Popular
3 Bottles Plus 1 Free
$118.00 $84.75 Save $33.25
Out Of Stock
2 Bottles
$59.00 $56.50 Save $2.50
Out Of Stock
FAQs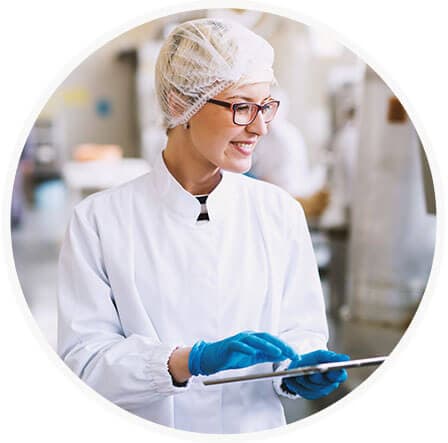 Do I need a prescription for Krill Oil Plus?
Krill Oil Plus is available for purchase without a prescription.
How do I use Krill Oil Plus?
Take one (1) capsule 1 to 2 times a day with food or as directed by your healthcare professional. 
Do not exceed recommended dose. Pregnant or nursing mothers, children under 18, and individuals with a known medical condition should consult a physician before using this or any dietary supplement.
I don't enjoy swallowing softgels. Do I have any other options?
The Krill Oil Plus softgels are considered easy to swallow by most people – they are about the size of a small fingernail. Because the softgel contains a liquid, it is not recommended to cut the softgel in half as much of the liquid will be lost. Do not chew the softgel.
‍Shipping, Sizes and Quantity
What are my delivery options?
We have global distribution to over 20 countries worldwide. This list of countries is available in the first step of checkout.
Orders are processed immediately and shipping depends on which option you choose:
| Description | Price |
| --- | --- |
| USPS - Standard (3-5 business days) | $4.95 |
| USPS - Second Day (2-3 business days) | $9.95 |
| UPS/DHL/USPS – Tracking International (12-15 business days) | $9.95 |
How many capsules are in 1 bottle of Krill Oil Plus?
Krill Oil Plus contains 60 softgels in every bottle. This is equivalent to a 1-month supply.
How big are the capsules?
The softgels are very small at a half inch (12mm), about the size of a finger nail width at their longest point. The softgels are oval in shape.
Can I return my unopened bottles of Krill Oil Plus?
Yes, we stand behind this supplement 100%, so we're more than happy for you to return your unopened bottles of Krill Oil Plus within 5 months of purchase.
‍Ingredients and Restricted Diets
Is Krill Oil Plus free of common allergens?
No, Krill Oil Plus contains crustacean shellfish (krill).
Is Krill Oil Plus a vegan product?
No, Krill Oil Plus contains crustacean shellfish (krill).
‍Certification and Manufacturing
Are these certified by the FDA?
The FDA does not certify dietary supplement products, such as Krill Oil Plus. However, Krill Oil Plus is bottled in an FDA registered facility that follows GMP (Good Manufacturing Practice) guidelines.
Where is the product from?
Because krill oil is harvested in Antarctic waters, Krill Oil Plus is entirely imported. The naturally occurring Astaxanthin acts as an antioxidant that preserves the krill oil on the long journey to the US.
Krill Oil is the Next Generation of Omega-3
The natural omega-3 content of Krill Oil Plus, along with beneficial phospholipids and astaxanthin, make it an outstanding general health supplement.
Limited time offer,
buy 3 and get 1 free! ‍